One Year In: What Do Experts Think of the 2019 Jetta?
Has the 2019 Volkswagen Jetta Maintained Its Praise?
Roughly one year ago the redesigned 2019 Jetta was released to great acclaim. Consumer reports declared that the updated Jetta offered new levels of style and comfort, and it was applauded as a success.
Now that the latest Jetta has been on the road, have reviewer opinions changed? Let's take a look at the latest reviews of the 2019 Jetta, and see if experts have maintained their enthusiasm.
Latest Reviews of the 2019 Volkswagen Jetta, for Sale at Our Tampa VW Dealership
According to the experts, the 2019 Volkswagen Jetta is well-worth a visit to our Tampa VW dealership.
"Ride comfort is on par with luxury cars." "Beats premium audio system is excellent." "Lots of places inside the cabin to store your stuff." "Standard Apple CarPlay and Android Auto connectivity."
US News Rankings and Reviews
"Good gas mileage." "Smooth ride." "All-day supportive seats." "User-friendly infotainment system."
"The 2019 Volkswagen Jetta represents sophisticated and pragmatic transportation." "Exceedingly fuel efficient." "Easygoing operation." "Upscale features."
"The redesigned 2019 Jetta has gotten up to speed on features, tech and comfort, as well as value."
"Tech and comfort are the 2019 VW Jetta's strongest points. Fuel economy is up to 40 mpg highway. The new chassis rides smoothly and comfortably." "A move upscale." "A solid choice for an efficient and smart compact sedan."
"Well-equipped." "Good safety gear." "Styling will age well."
Bottom line—the experts still say that the 2019 Jetta offers comfort, tech, and style, all at a better value than the competition.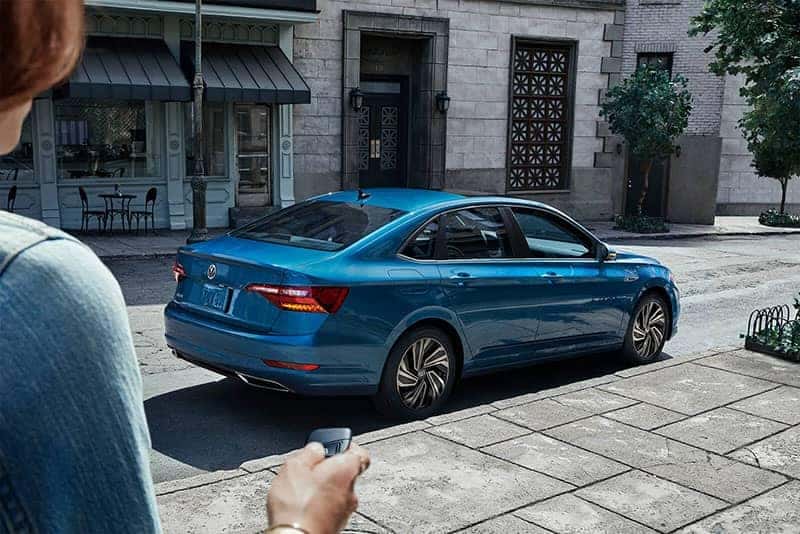 Test Drive Your 2019 Volkswagen Jetta at Our Tampa VW Dealership
Now it's time to experience the 2019 Jetta for yourself. Test drive yours at our Tampa VW dealership today.
What makes Reeves your top resource for all things Volkswagen? For starters, we offer the most expansive selection that you'll find anywhere in the area, allowing you to find the ideal model packed with the right features for your needs. At the same time, you'll enjoy the utmost in expertise and convenience, ensuring that you'll receive complete satisfaction every step of the way.
Check out our selection of the 2019 Volkswagen Jetta online, or call Reeves Volkswagen at (813) 935-3354 today.