"All Around Greatness" in the VW Tiguan Reviews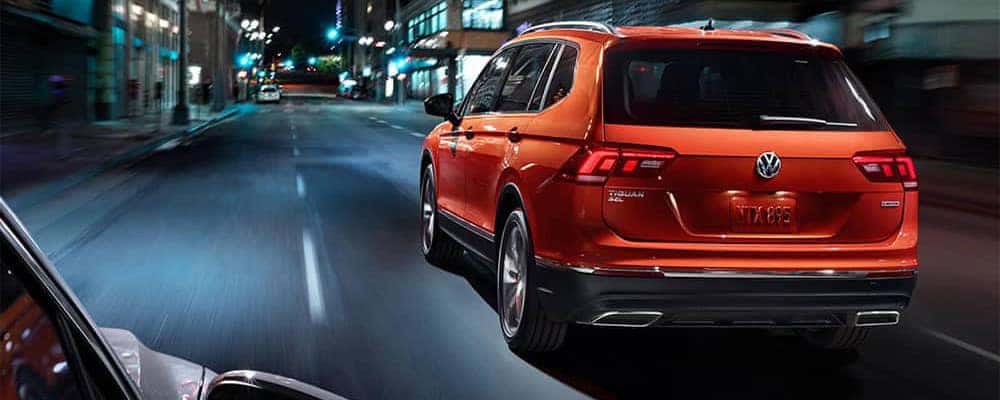 The 2019 Volkswagen Tiguan is one of the standout options in the extremely competitive compact SUV segment, but you shouldn't just take our word for it. Each VW Tiguan review we've seen highlights the remarkable strengths of this one-of-a-kind ride, and it has no trouble besting rivals like the well-known Toyota RAV4.
Is this Volkswagen right for your Wesley Chapel and Clearwater drives? Check out the VW Tiguan reviews and make a decision today!
VW Tiguan Reviews: Cars.com
When Cars.com reviewed looked for the Best Compact SUV of 2019, the Tiguan ranked higher than all of its competitors.
"The Tiguan returns as champion on the strength of how it drives, and you give up nothing in roominess, media, safety tech and cabin comfort for it."
"It topped or tied in a staggering nine out of 16 categories: front seats, rear seats, multimedia and controls, interior quality, powertrain, handling, noise, cargo storage and child-seat fitment."
Later, in their VW Tiguan review, they declared that this compact SUV offers "All-Around Greatness."
"With light-effort, responsive steering and crisp handling on suburban streets and interstate highways alike, the Tiguan was the most fun to drive."
"The materials are complemented by luxury-grade features, like an available all-digital instrument cluster screen and details like a steering wheel finished with intricate stitching."
Curious about the features that make the Tiguan so fun to drive? Check out our overview of this compact SUV's performance specs.
VW Tiguan Reviews: Kelley Blue Book
Kelley Blue Book was more measured in their own VW Tiguan review, but this leading compact SUV still earned an overall score of 4.3 out of 5.
"The Tiguan is considerably larger than a Mazda CX-5, offers more luxury features than a Honda CR-V and is more powerful than a Nissan Rogue."
"Highway ride is firmer than that of some other small SUVs, but excellent seats, a quiet cabin and superior steering feel qualify the new Tiguan as an excellent long-haul companion."
VW Tiguan Reviews: U.S. News & World Report
The U.S. News scours reviews from across the web and presents a complete assessment of a vehicle's performance. This comprehensive VW Tiguan review speaks volumes:
"It delivers a smooth ride over most road surfaces, and few rivals have more passenger and cargo space."
"The 2019 Volkswagen Tiguan SUV has a lot going for it, including a lengthy features list, a large cargo hold, and a comfortable ride. It also has a leg up on many competitors by being one of the few small SUVs available with three rows of seats."
Make Your Own VW Tiguan Review at Reeves Volkswagen!
So, should you choose a new VW Tiguan for sale in Tampa, FL? This compact SUV has more than enough class to charm even the stuffiest passengers, and it satisfies the most demanding drivers, too. Apply for financing or set up your test drive today! We're easy to reach, even from St. Petersburg or New Port Richey.
Interested in learning more? Check out some of our VW Tiguan video reviews,  learn more about the price, or find out what's in store for 2020.
More About Volkswagen Model Features