The Best Seafood Restaurants in Tampa, FL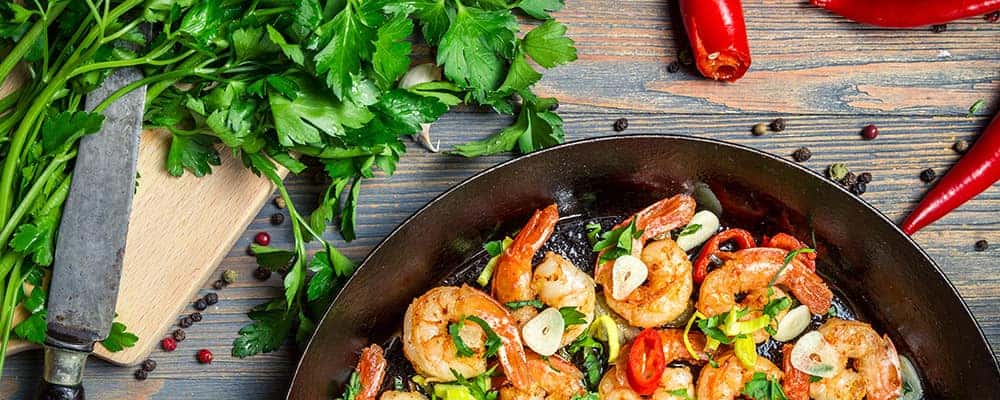 Anyone who's spent much time in Florida knows just how good fresh seafood can be, especially when it's coming straight from the gulf! However, if you're new to the area or just looking for a way to mix things up, you might have trouble finding the perfect place to spend you night out. That's where we come in. Reeves Volkswagen loves to hear about our neighbors' adventures, we're passing our list of the best seafood restaurants in Tampa, FL on to you!
Big Ray's Fish Camp
6116 Interbay Blvd
Big Ray's is a relative newcomer in the Tampa, FL seafood scene, but since head chef Nick Cruz grew up fishing on the Ballast Point Pier nearby, the flavors here are anything but unfamiliar. Opt for the Deviled Crab or try the U-Peel 'em Shrimp–and feel free to wear your flip-flops on your visit! It easily ranks among the best seafood restaurants in Tampa, FL, when you're looking for something on the casual side.
Miguel's Mexican Seafood and Grill
3035 W. Kennedy Blvd
If you're the type who enjoys their seafood with a spicy kick, you've got to try Miguel's! This well-loved, high-end Mexican restaurant features all your favorite dishes, along with a full lineup of house-made sauces and delectable cocktails. We love the Ixtapa, which combines lobster tail with fajitas for an unforgettable blend of flavor, but we should also note that many appetizers can be prepared with whatever seafood you'd prefer.
Sushi Sho Rexley
214 2nd Street North in Nearby St. Petersburg
We know that St. Petersburg is a short drive away from downtown Tampa, but master sushi chef Rexley Kwak knows the art better as anyone! Kwak picked up his skills under Hiro Ida San, and with his brother Arte handling the front-of-house and the sake pairings, Rexley is free to do what he does best: crafting unique and meticulous Omakase dishes in an intimate, up-close-and-personal setting. Make a reservation at Sushi Sho Rexley to enjoy the full course menu, or order nigiri a la Carte. If you're going to go the latter route, make sure to arrive at this seafood restaurant early on: most things on the menu are first-come first-serve.
For a more laid-back sushi experience at one of the seafood restaurants in Tampa, FL, we recommend Matoi Sushi at 602 N Dale Mabry, or SoHo Sushi at 3218 W Kennedy Blvd.
Rusty Pelican
2425 N. Rocky Point Drive
There's no way to make a list of the best seafood restaurants in Tampa, FL without mentioning the Rusty Pelican. They've been serving up the finest Carribean-inspired seafood dishes since 1978, so in our opinion, there's no better place to go to get a taste for the food that locals love. What's more, since their longtime staff is also happy to serve up steaks and other more "Midwestern" dishes, it's easy to find something for the picky vacationers or recent Florida transplants in your life.
Their rotating cocktail menu would make them worthy of a visit, even if it was the only thing on offer!
Reeves Volkswagen is Your Guide to Tampa, FL
Still looking for other fun things to do in Tampa, FL? We know all of the best local restaurants and the smartest ways to spend your summer. Hoping to start your next weekend off right? We've put together a list of our favorite spots for brunch in Tampa.
If you took advantage of one of our local guides, we'd love to hear about your experience! Contact us today if you have any questions, or know of a local restaurant that you'd like to highlight.
Learn More with Reeves Volkswagen
Searching for the best car shows in Tampa? You've come to the right place. The team Reeves Volkswagen knows just about everything there is to know about new cars and hot rods, whether they're from Volkswagen or some other popular make! Explore our favorite new car shows in Tampa for find a cruise-in classic car show…

Anyone who's spent much time in Florida knows just how good fresh seafood can be, especially when it's coming straight from the gulf! However, if you're new to the area or just looking for a way to mix things up, you might have trouble finding the perfect place to spend you night out. That's where…

The heat is on in Tampa, FL and if you're looking for things to do while you're in town from Brandon, we have answers. Reeves Volkswagen in Tampa has put together a list of ideas for spending summer in Tampa, so you can get the most out of your precious free time. Check them out and,…