How Do You Change a Car Tire?
Whether you have a flat tire or the treads on your tire have worn down, knowing how and when to change a tire is important knowledge for any Brandon driver. This can cut down on those times when you have to wait on the side of the road for help, or for switching out tired in bad condition. Luckily, the service center at Reeves Volkswagen is here to help!
---
Changing Your Volkswagen Tires
In order to change the tires on a Volkswagen, you'll need the right tools: a jack, lug wrench, spare tire or new tire(s), and your owner's manual. Replacing your tire on your car, truck, or SUV is a fairly simple and straightforward process.
If you're on the side of the road near Clearwater, move to a safe place and turn on your hazard lights.
Wherever you are, apply the parking brake and wheel wedges under the other tires.
Remove the wheel cover or hubcap from the tire, then loosen the lug nuts.
Use the jack to raise your vehicle and remove the lug nuts.
Remove the current tire and mount the new or spare tire.
Tighten the lug nuts, then lower your vehicle back to the ground.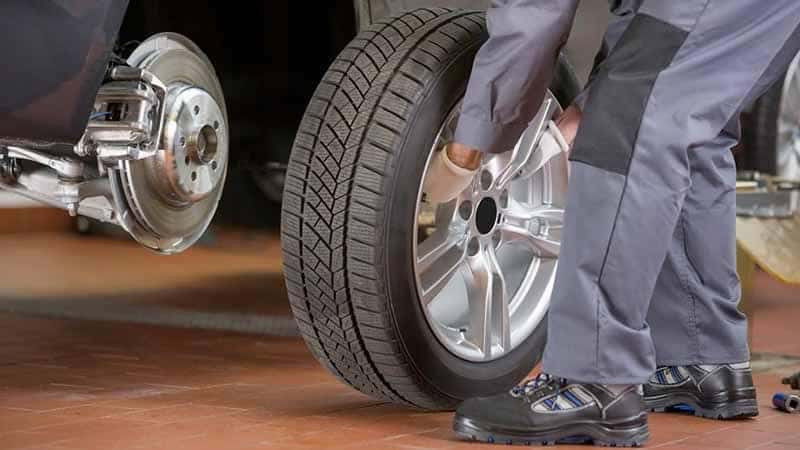 ---
How Often Should You Change Your Car Tires?
The answer to "how often should you change your car tires" depends on how well your tires are made and how your Volkswagen vehicle is driven. If you regularly
rotate your tires
, they will last much longer. However, you should make sure you regularly check tire pressure and tread. If the tread is too worn, it's time for new tires. Schedule a tire rotation with Reeves Volkswagen to keep them lasting as long as possible.
---
How Many Miles Can a Spare Tire Last?
If you have to put a spare tire on your Volkswagen model, you will want to get a new, permanent tire as a replacement as soon as possible. Spare tires are not meant to be driven long distances, and in fact should not be driven more than 50 miles in most cases. You should also try to stay below 50 mph on a spare tire.
---
Rely on Reeves Volkswagen for Service
For more information on changing a spare tire, and to learn more about Reeves Volkswagen services, take the trip from Clearwater to Reeves Volkswagen! For help with any questions, be sure to contact us.
Ready to learn more now that you've seen how to change a tire? Contact us or explore our short guide to checking transmission fluid today.
More from Reeves Volkswagen
High Ratings from Every Review of the 2020 VW Atlas Cross Sport When the Volkswagen Atlas was first released in 2018, it immediately became established as a popular family-friendly hauler thanks to its outstanding versatility and superior comfort. Now the company has released the new 2020 VW Atlas Cross Sport edition, and the experts have…

With the 2020 Volkswagen Passat, Brandon drivers can combine functionality with style and zip from place to place in a dependable vehicle. The 2020 Volkswagen Passat interior has much to offer and will make you and your passengers' time in transit a comfortable one. Take a further look at the interior of this great car…

See Why Experts Recommend You Lease the 2020 Jetta For decades now, the Jetta has not only been one of the most popular vehicles in the Volkswagen lineup, but has  consistently stacked up favorably against the other models in its class. As far as sedans go, the Jetta has always been a comfortable, tech-friendly vehicle…