4 Reasons You'll Love this Tampa Volkswagen Dealership
One VW Dealer in Tampa Delivers a Premium Experience – Here's How
When it comes to buying or leasing a new car, half the fun is the process of shopping for and choosing your ride. That means finding a Tampa Volkswagen dealership that provides a truly enjoyable, helpful experience. We're proud to say that one dealership has built a reputation for offering the best VW dealer experience in Tampa – Reeves Volkswagen.
What is it that sets Reeves apart from other Tampa Volkswagen dealerships? The reasons are many, but there are a few that really stand out.
4 Reasons the Reeves Experience Is Different from Other Tampa Volkswagen Dealers
At our Tampa VW dealership, we don't think of you as a one-time customer. We're here to learn your name, get to know your needs, then help you experience a lifetime of Volkswagen ownership excellence. That means going further than merely selling you a car – it means building a substantial relationship by providing you with an outstanding level of attentive service.
Finding your ideal Volkswagen means having a vast range of options to contrast and compare. At Reeves Volkswagen, we work hard to build and maintain the largest fleet of Volkswagen models and trims that you'll find at any VW dealer in Tampa. Whatever you're looking for, we'll help you find it in our massive inventory.
We believe that when you need Volkswagen maintenance or repair, your experience should always – always – be fast, convenient, and reliable. That's why we've built the largest volume service center in Tampa that is staffed by a team of technicians who are unrivaled in their expertise and experience.
Everyone knows that one of the best parts of getting a new car is the moment you know you've scored an outstanding deal. At Reeves Volkswagen, deals are what we deliver. Whether you're looking for a great price on financing or a lease, on parts or service, or on accessories or apparel, we offer the best Volkswagen specials that you'll find at any dealer in Tampa.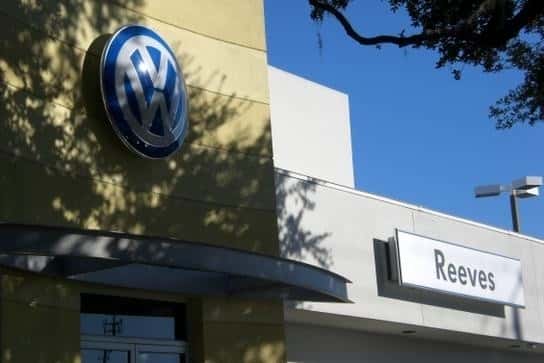 Visit the Premier Tampa Volkswagen Dealer – Reeves Volkswagen
In the end, it's simple. At Reeves Volkswagen, we provide a VW dealership experience unlike any other. We're committed to not only getting you behind the wheel of your ideal vehicle, but being here to help you with all of your driving needs for mile after mile, and year after year.
Check out our unrivaled Volkswagen selection online, or call Reeves Volkswagen of Tampa at (855) 248-4512 today.